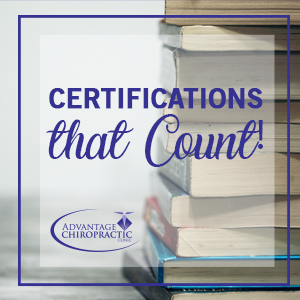 When medical doctors complete their required general schooling, the vast majority continue onto specialties – cardiology, gastroenterology, etc. In chiropractic medicine, it's quite the opposite. Although 18 hours of continuing education each year is required for all chiropractors after graduation, very few choose to expand their education past that requirement. The doctors at Advantage Chiropractic Clinic believe that their patients deserve better than that. That's why each of the doctors in our clinic have taken the time to further their education and become board certified in different areas of chiropractic medicine.
In 2011, Dr. Adams completed a program for Advanced Certification in Brain Traumatology and Whiplash Associated Disorders from the Spine Research Institute of San Diego. He was named a Fellow of the Academy of Chiropractic Orthopedists in 2015 after completing a rigorous four-year program. He is internationally certified in impairment and disability rating by the Board of Forensic Professionals. Dr. Adams's board certification for Non-Surgical Orthopedics followed a 300-hour program that included advanced testing and practical examinations. He is still continuing his education to be further certified in Nutrition and Dietetics.
In addition, Dr. Adams has earned his Medical 3 Certification from the Titleist Performance Institute (TPI), an organization dedicated to golf-specific health, fitness and swing advice. TPI studies how the human body functions in relation to the golf swing. With this certification, Dr. Adams is now licensed by the institute to treat and advise golfers of all levels on how their physical health impacts their golf game.
Dr. Vrbka is a Certified Chiropractic Sports Practitioner. He earned this certification in 2013 after extensive studies with the American Chiropractic Board of Sports Physicians. He is currently pursuing a Diplomate in the same field. He earned his Golf Injury Certification from the Blanchard Academy of Golf and is a Certified Kinesiotape Tape Practitioner. These certifications make him an expert in chiropractic medicine as it relates to sports injuries.
I think it was most important for us to get these certifications because it was a better way to serve our patients," said Dr. Vrbka. "We want to be on the cutting edge in terms of care. We want to be the best of the best."
The doctors at Advantage Chiropractic Clinic encourage everyone to do their research. "Not all chiropractors are the same. We have different levels of education and training. We can provide different services. If you've seen somebody in the past and you haven't gotten the results you've hoped for, you can find a doctor that has more experience and education in that area to help."
If you are looking for a consultation from a doctor with the experience and education that matters, come to Advantage Chiropractic Clinic. We are confident that we can get you back to feeling your best.