What to Expect
As chiropractors in Auburn we understand and realize you have a choice in who you see for your health care. We strive in every way to make you as comfortable and as relaxed as possible. From the moment you walk through our doors, we hope you'll feel at home in our serene and peaceful office. We also know that chiropractic is new to some people.
We've found that one of the best ways to have successful patient relationships is to explain all of our procedures, fees, and treatments in advance. No surprises! It's important that our relationship is one of trust and honesty, since chiropractic care can involve a series of visits, each one building on the ones before. We value our role as primary care physicians and are here to help you feel and live better. If we can help, we will. If not, we will refer you to the appropriate specialist.
The more you understand who we are, what we do and why we do it, the better results you'll enjoy.
It's as simple as that!

Your First Visit
The first visit is an information gathering session. We reserve 1 hour of our doctor's time to meet a new patient. Paperwork can be filled out online prior to your visit from any internet capable device and submitted directly and securely to our clinic, saving you time and allowing for a more complete history.
We ask our new patient's to arrive at least 20 minutes before their scheduled appointment time to allow for any additional information we may need in order to give you the most accurate information regarding your insurance coverage.
From there, you will proceed to your consultation and exam.
Online Paperwork
Fill out and submit your paperwork online!
For Patients 6 and Under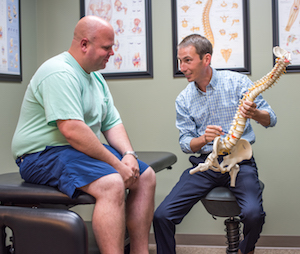 Consultation & Examination
After completing your intake, you will be escorted into an exam room where Dr. Brad Adams, D.C., DACO, DABCI, DABCN, will go over the paperwork submitted and discuss your particular condition and symptoms. This history will lead us into a thorough examination including orthopedic, neurologic, and chiropractic tests to localize the problem. Realize, the better we can locate the cause of the problem, the better we can treat and fix the symptoms.
An X-ray evaluation may be necessary to more accurately diagnose the problem, which we can do at our facility if needed.
Lastly, we will do whatever we can safely to help get you some relief during this first visit and we will send you home with some recommendations to help ease the discomfort while we are working toward a solution. Most new patients are scheduled for a follow-up appointment the next day, or as soon as possible and convenient for the patient, to go over the results of these tests and discuss treatment options.
Questions? Concerns? Give our Auburn chiropractic office a call and put your mind at ease.
Read on to find out what to expect at your second and regular visits…
---
New Patient Center for Advantage Chiropractic Clinic | (334) 821-2552