Our Chiropractic Techniques
Pain can disrupt your life. We can help!
We see patients in all conditions from acute pain that started this morning to chronic pain that has been disrupting your quality of life for decades. At Advantage Chiropractic Clinic we work to get patients out of pain and back to living life as quickly as possible. Our objective as your doctors is to work as quickly, and as compassionately as possible to uncover the source of the problem and move toward providing you lasting relief.
Check out some of the different chiropractic techniques below that we use for pain relief.
The primary adjusting techniques we use include:
Diversified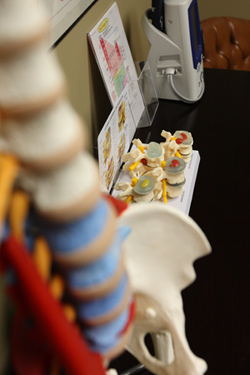 After identifying which vertebrae have lost their normal motion or position, a specific manual thrust is applied to free up "stuck" spinal joints. read more»
Gonstead
This full spine approach relies on X-rays and a heat-sensing instrument for a thorough evaluation and documented results. read more»
Thompson
Thompson Terminal Point technique is a system of analysis and a special table that reduces the amount of energy needed to adjust your spine. read more»
Activator Methods®
This is a system of spinal evaluation combined with a handheld adjusting instrument that delivers a consistent, low-force thrust. read more»
SOT
Sacro Occipital Technique helps normalize the relationship between the pelvis and the head, using gravity to make the necessary correction. read more»
Palmer Package
We're experts on a wide range of effective adjusting approaches taught at the Palmer College of Chiropractic, the birthplace of chiropractic. read more»
Toggle Recoil
While lying on your side, we'll use our hands to deliver a quick contact to the upper bones of your spine. Your body does the rest. read more»
Become a Patient
If you've been to a chiropractor before and prefer to be adjusted in a particular way, let us know. We want you to relax, enjoy and fully benefit from your chiropractic care. Call us today to get started!
---
Advantage Chiropractic Clinic | (334) 821-2552