Meet Dr. Vrbka and Dr. Adams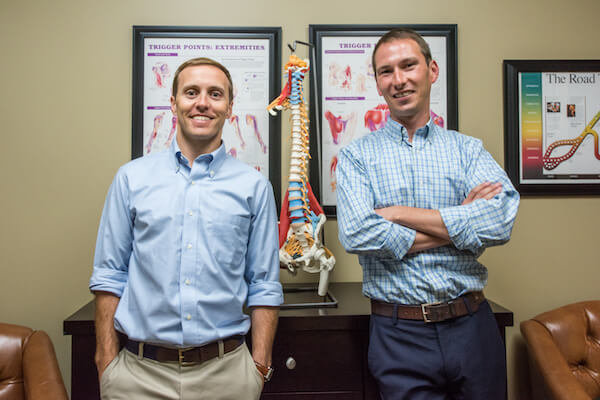 Dr. Bradley C. Adams, D.C., DIANM, DABCI, DACBN
Doctor of Chiropractic, Fellow of the Academy of Chiropractic Orthopedists, Chiropractic Internist, Board Certified in Clinical Nutrition
Dr. Adams graduated Magna Cum Laude in 2006 from Palmer College of Chiropractic, which is widely recognized as the most prestigious college of chiropractic. Dr. Adams had previously graduated from Auburn University with a B.S. in Business Administration, Entrepreneurship and Family Business, after completing his core requirements in Biomedical Science.
Advanced Training and Certification
In 2011, Dr. Adams completed a program for Advanced Certification in Brain Traumatology and Whiplash Associated Disorders from the Spine Research Institute of San Diego.
He was named a Fellow of the Academy of Chiropractic Orthopedists in 2015 after completing a rigorous four-year program and obtaining Board certification.
In 2019, Dr. Brad Adams earned his Diplomate of the American Board of Chiropractic Internists (DABCI). This follows the successful completion of a three-year post-doctoral program and examination Board certified by the American Chiropractic Association.
Additionally in 2019, Dr. Adams became a Diplomate of the American Clinical Board of Nutrition, following successful completion of the Board's certification exam and submission of a strongly-sourced article to the Nutritional Perspectives journal. The certification demonstrates his commitment to improving the health and well being of his patients through optimized, science-driven nutrition.
Dr. Adams also earned the distinction of TPI, Level 3 Medical Professional from the Titleist Performance Institute in 2017.
Dr. Adams is a member of the ACA Governor's Advisory Cabinet. He is internationally certified in impairment and disability rating by the Board of Forensic Professionals. For a full list of Dr. Adams credentials, please see his Curriculum Vitae.
Family Life
Originally from Birmingham, Alabama, Dr. Adams loves residing in Auburn, with his wife, Lauren, their daughter, Tallulah and their Miniature Australian Shepherd, Begonia. He is a adoring daddy and enjoys spending time with his family. Dr. Adams is an avid golfer. He is proud to call "The Loveliest Village on the Plains" his home.
---
Dr. Thomas J. Vrbka, D.C., DACBSP
Doctor of Chiropractic
Dr. Tom Vrbka is an evidence-based chiropractor who graduated from the leading Chiropractic college in the country in 2006. Since his graduation from Palmer College of Chiropractic in Davenport, IA, Dr. Vrbka has earned his Diplomate in Sports Medicine from the American Chiropractic Board of Sports Physicians in 2018. He initially became a Certified Chiropractic Sports Physician in 2012. Through his training, Dr. Vrbka has become a leading expert in the management of injured athletes that wish to compete and excel at the highest level of sports. Through focus on the athlete's biomechanics, exercise, training regime and rehabilitation, Dr. Tom is able to help them achieve their goals. He also actively seeks out additional educational opportunities to bring the best healing practices to his patients. Dr. Vrbka holds certifications from Kinesiotape, the Blanchard Academy of Golf, and Functional Movement Systems.
Advanced Training and Certification
Dr. Tom Vrbka is active in several professional organizations, including the Alabama State Chiropractic Association and the American Chiropractic Board of Sports Physicians.
While At Home
Dr. Vrbka is originally from Shelby, NE and is married to Joy Stephenson Vrbka. They reside in Auburn with their Australian Cobberdog Hunny Bee. In his spare time, Dr. Tom enjoys being active outdoors, whether it is running, hiking, yoga, yard work, or golf.
Call our office today to request an appointment!
---
Meet the Doctors | (334) 821-2552