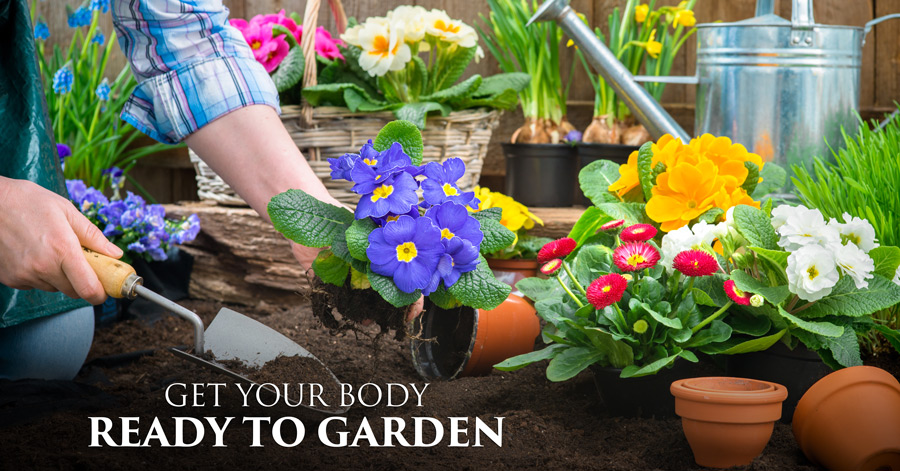 As people beautify their yards and pick their home-grown produce in the warm weather, we recognize gardening as both a preferred physical activity and a healthy hobby.
However, because your body is often bent over, kneeling and pulling when you are gardening, we recommend that you prepare your body as you would before any workout with the right stretches that will help your back, upper legs, shoulders and wrists.
Try these stretches before you get your hands in the dirt this summer.
-Sit down and prop your heel on a stool or step, keeping your knees straight. Lean forward until you feel your hamstring muscle (back of the thigh) stretching. Repeat and do the same with your other leg.
-Stand and grab the front of your ankle from behind with one hand. Pull up towards your buttocks and hold the position for 15 seconds. Repeat and do the same with your other leg.
-Stand and weave your fingers together, pulling your arms above your head. Lean to each side, holding the position for 10 seconds each time.
-Wrap your arms around yourself and rotate to one side until you feel your muscles stretching. Hold for 10 seconds and do the same with the other side.
Of course you should only perform these stretches in the absence of any injuries or medical conditions that cause pain. You should also seek the advice of one of our physicians if the pain is consistently reproducible when attempting these movements as it is likely a sign of an underlying condition.
Now that you are ready to garden, keep in mind during the activity to change positions often. Also, remember that kneeling is easier on your body than bending over.
If you've suffered any sort of pain as a result of gardening, spinal manipulation from Advantage Chiropractic Clinic can help. This will improve the spine's function and help your body heal faster.
Give us a call at #AdvantageChiropracticClinic today for more stretching tips, whether you have a green thumb or your forte is in another activity. Call 334-821-2552 to reach the clinic! #ACC #Auburn #Gardening #ChiropracticCare