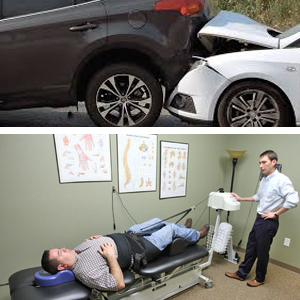 Between game day traffic and the usual 5:00 insanity on Opelika Road, car accidents seem to happen left and right in Auburn. The sad truth is that many of those car accidents result in physical pain for the people involved, and sometimes that pain lingers in their necks, backs, head or elsewhere. In the craziness of dealing with insurance and seeking legal assistance, all while trying to deal with this pain, many people go for a quick fix. That's when they find themselves at urgent cares with pill bottles full of painkillers and anti-inflammatories.
We get it – you want an immediate stop to the aches. Urgent cares seem like way to go. Unfortunately, painkillers can often hurt your body more than they help by dulling the pain and can result in further pull or strain or overwork to an injured muscle. Your first call after a car accident should be to a doctor who specialize in these types of injuries – your chiropractor.
At Advantage Chiropractic Clinic, we will examine all of your aches and pains and work toward fixing the issues behind them rather than simply prescribing medication. This could include a thorough examination and possibly X-Rays, or other advanced tests to determine what exactly is causing your pain. As a brain trauma and whiplash specialist, Dr. Adams is able to recognize warning signs and issues might be overlooked at an urgent care. We will also take records of your injuries and your progress, should you need them for legal purposes.
We know that getting into a car accident is stressful, especially when it's one that results in serious physical pain. Let Advantage Chiropractic Clinic help you focus on what's most important – getting you healthy again.
Advantage Chiropractic Clinic is an Auburn, Alabama-based clinic specializing in the diagnosis and treatment of musculoskeletal conditions and diseases. Dr. Brad Adams and Dr. Tom Vrbka are highly trained specialists with advanced chiropractic training who can assist with acute or chronic pain.