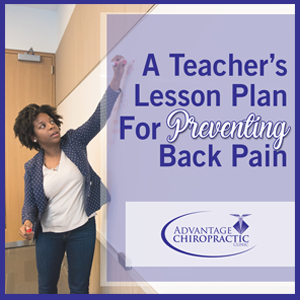 We've already talked about risk factors for young students during back-to-school season (see that blog post here), but there's another population that experiences strain in this busy month – we're looking at you, teachers! 
Standing during lectures, chasing young students around and toting equipment takes its toll. We know that pain, especially back pain, has become a seemingly "normal" part of teaching, but we want to remind you that no pain is normal.  Keep reading to learn factors that put your spine health at risk and what you can do to alleviate this pain. 
Back pain risk factors associated with teaching include:
Standing "lecture-style" in classrooms with hard floors for extended hours
Bending over to reach and see desks more easily
Sitting for long periods of time while grading assignments

 

Lifting or carrying young students, heavy equipment and paperwork
We know that taking time off from your job isn't always easy. There are things you can do to reduce your overall pain: 
Invest in a high stool as an alternative to standing for hours
Use a table with an adjustable height for variation while grading

 

Use wheeled trollies to transport equipment and paperwork instead of carrying
Wear comfortable and supportive shoes
Consider chiropractic care
However, the most effective way to alleviate pain is a regular visit to a chiropractor. The doctors at Advantage Chiropractic Clinic can perform routine maintenance to keep your spine aligned, your joints in good shape and your muscles free of pain. A bonus? Chiropractic care is well covered by most educator insurance plans.
Don't let your job compromise your health – make an appointment at Advantage Chiropractic Clinic today!